We have several free resources available related to attracting, hiring and retaining talent. One of the more popular ones is our Creative Recruiting Strategies guide. One reason why it is so popular is because of the current talent landscape. Consider the current research on Talent Acquisition by Josh Bersin, who said this...
"This week we launched our new global Talent Acquisition research (all about sourcing, recruiting, and attracting people) and the results are staggering. While nearly every company is trying to hire (the unemployment rate is below 3.6% and the economy is creating more than 400,000 new jobs each month), recruiting teams are not keeping up.
In fact, our comprehensive research shows that only one in four companies are recruiting in an optimized way today."
That statistic proves how important creative recruitment strategies are needed. Yet, how does one go about attracting talent in this "Great Resignation" era? One way is to derive inspiration from consumer marketing and apply the tactic to a recruitment marketing campaign. Take for example, Skittles. Instead of investing millions into a Super Bowl ad, Skittles redirected their money to produce an elaborate musical titled "Broadway the Rainbow". The theme of this art piece? Calling out how corrupt the marketing industry is. To quote Mark Airinteo...
The main characters in the musical spin a cautionary tale on how advertising has completely ruined them and caused their lives to be in shambles. Despite the daring storyline and over-the-top visuals, this $200-a-ticket musical went viral and sold out in only a few days, not to mention garnering critical acclaim from multiple sources claiming it was the "most inventive ad of the decade".
Here is a video discussing their strategy and showing scenes from the musical.
IDEA
Taking Skittles example as inspiration, why not create a skit about the negative things going on in your industry and how your company plans to change things with the help of new employees. If this kind of thinking intrigues you, here is another example to consider. Check out this quote from All Business.
In July 2010, Chicago's Museum of Science and Industry, seeking to pep up its image and drive patronage, promised one person the chance to spend a "Month at the Museum"—as in, actually live there in a hotel-style room. The winner of the contest would then become a social media machine, Twittering, Facebooking, YouTubing, and Flickring about the experience, earning $10,000 for the effort.
The museum expected a few hundred entries, which included essays and videos. It received more than 1,500 from all over the world. The process of selecting the winner engaged more than 400 blogs, almost doubled the museum's Facebook fan base, and drew in local TV and radio, along with ABC's "Good Morning America" and other national news and entertainment shows.
IDEA
Why not create an entertaining live event to attract the attention of passive candidates? During the livestream, promote your jobs and recruit in real time. Maybe something similar to the slides below?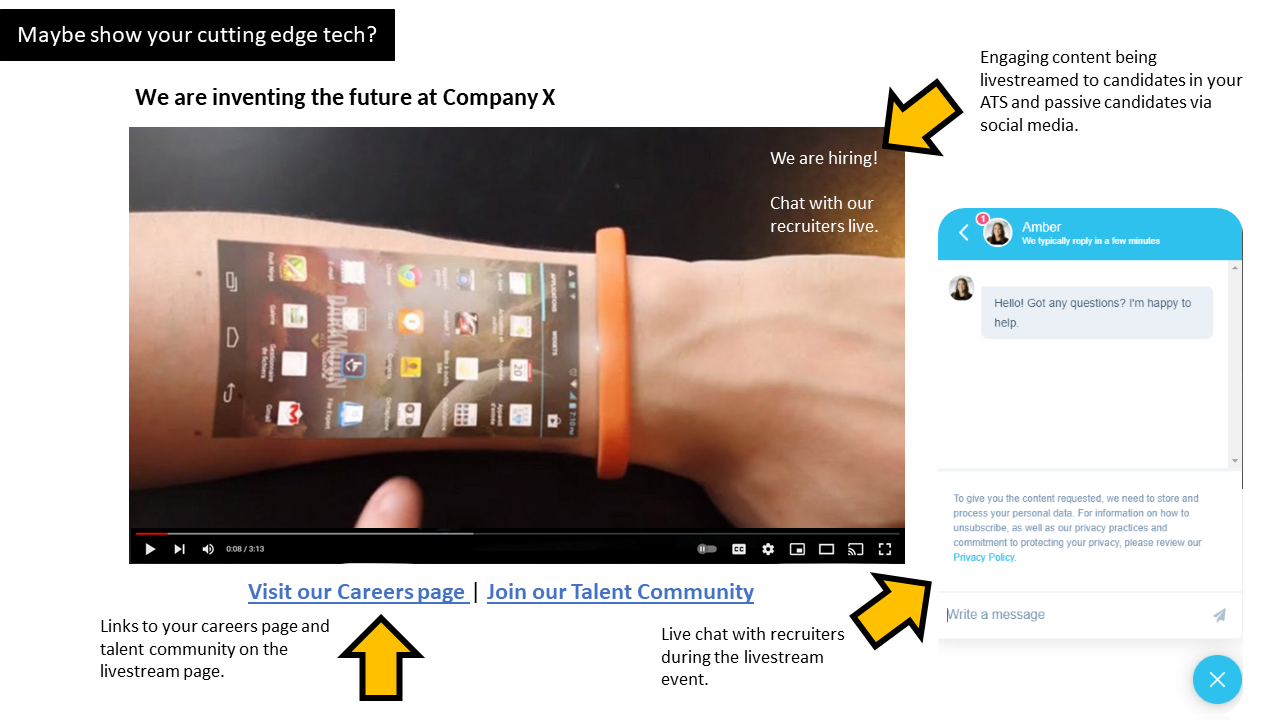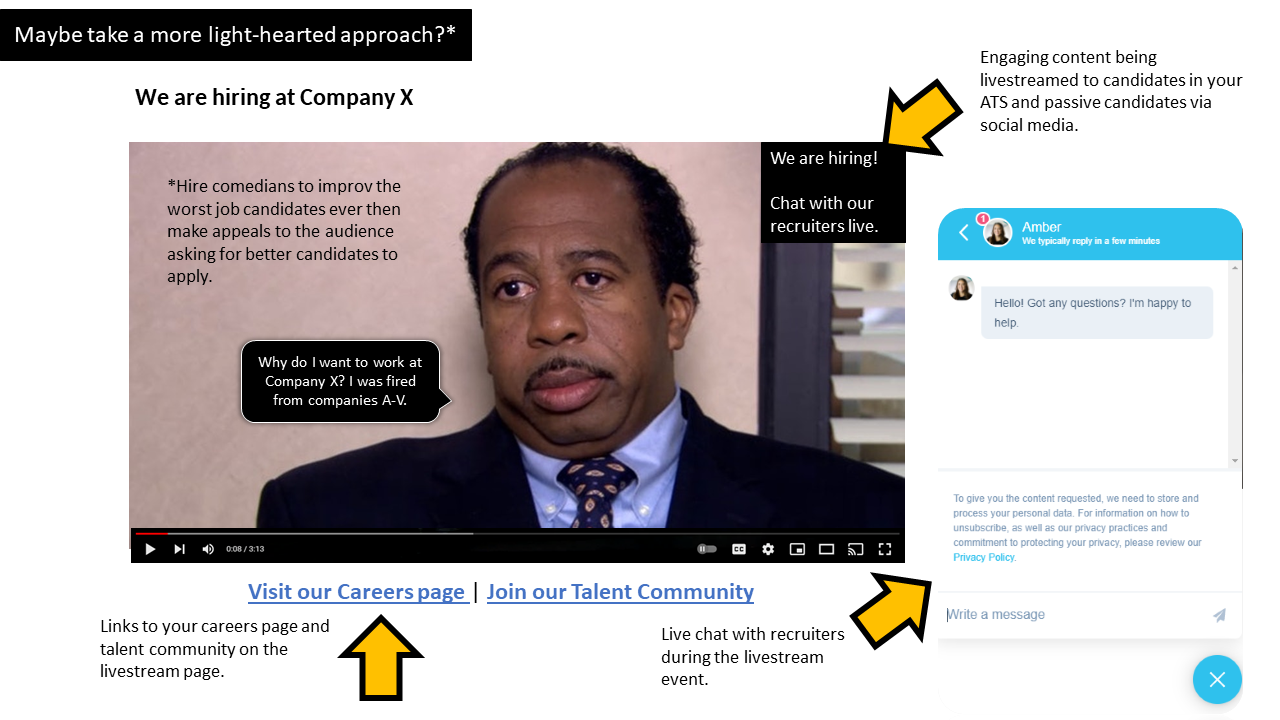 And while we are on the topic of creative talent acquisition strategies, what do you think of the image below? Are you curious as to where this QR code will lead you? If so. chances are you will not be the only one. Check out this quote from CNN.
"The app for Coinbase, a cryptocurrency exchange, briefly crashed Sunday after a bizarre Super Bowl ad sparked a surge in traffic.
The 60-second ad featured a floating and colorful QR code bouncing around the screen, similar to a bouncing DVD logo. The QR code directed people to a link offering $15 in Bitcoin to those who sign up for a Coinbase account before February 15. The ad proved so popular that the app crashed for about an hour.

Coinbase had more than 20 million hits on its landing page in one minute and the engagement that was six times higher than previous benchmarks, Surojit Chatterjee, chief product officer at Coinbase, wrote on Twitter. He said that was "historic and unprecedented. "

The app also skyrocketed in popularity, rising from 186th place to 2nd on Apple's App Store, according to crypto news website the Block."
IDEA
What if for one day, your company's homepage was just a QR code that led to a special landing page (or Careers website) where you promote your hard to fill jobs. Depending on the traffic to your website and social media, this could go viral. Now consider this...
If the above job advertisement looks like something your kindergarten child would create, well, that was the intention. Believe it or not, this tweet is promoting a job with a potential 6-figure salary. My Modern Met discussed the marketing strategy behind this on their blog. Here is a quote...
The City of Los Angeles Personnel Department recently posted a job advertisement, for a new graphic designer. However, the ad wasn't your average job listing: seemingly made in MS Paint, it features a pixelated copy-paste logo, "modernist cubes," hand-drawn multi-colored fonts, and if that wasn't bad enough, the particulars were written in Comic Sans.
Although it might look like a joke, the posting is in fact for a real, full-time job, and offers a very reasonable salary of up to $103,230 per year. The ideal candidate should have a Bachelor's degree in Art, Graphic Design or Computer Graphics, or have completed a certificate program in the same fields. The post lasts for two years, and the successful applicant will be asked to carry out various graphic design projects including the creation of "displays, layout design for websites, brochures, descriptive charts, advertising or other publications for commercial or public use."
I have seen this low-budget, no-budget strategy used effectively in multiple iterations. Here are a couple of instances that I really appreciate. The first one features Ryan Reynolds promoting Mint Mobile.
And this one is actually my favorite recruitment video to date.
TIME TO BRAINSTORM!
What are some low-budget or no-budget things or creative recruiting techniques you can do to attract passive candidates to your jobs? Please list your suggestions below. You get bonus points if you can point to a case study where your creativity paid off.
If you are stuck on this exercise and drawing a blank on coming up with new ideas to attract talent to your company, let's have a conversation. We have more ideas (a lot more) than the ones shared on our website. Chat soon?
-Jim
Comments