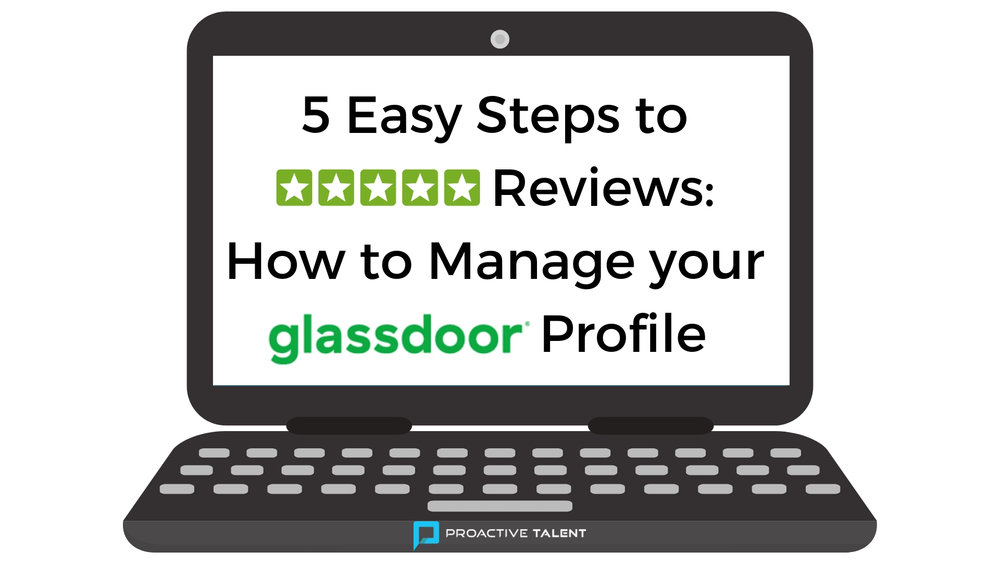 We are living in the digital age where online reviews are everything. And this doesn't just go for shopping or eating out, it goes for job hunting as well. As an employer, if you aren't aware that your online company reputation matters, it's time to start taking it seriously. 78% of people will look into a company's reputation as an employer before applying for a job. While managing your Glassdoor profile may feel overwhelming, we've broken it down and made it easy for you with just 5 steps to improve your rating. Learn how to improve your Glassdoor ratings and reviews now!
1. Claim Your Free Employer Profile and Start Setting it Up
Your free employer account allows you to claim your Glassdoor company profile, update basic information about your company (including photos and some basic branding), and respond to reviews. You can claim your Free Employer Account now. Here's a quick "Getting Started" guide by Glassdoor.
Even in the free edition of the employer dashboard, there is quite a bit of data to analyze your current ratings and reviews, profile activity like page views and candidate demographics, and rating trends to help you create goals around how to improve, as well as measure, your progress over time.
Additionally, you can also become an OpenCompany, which allows you to:
Learn engagement best practices through step-by-step guidance on how to create and maintain a compelling company profile.

Distinguish your company brand with an exclusive OpenCompany badge that showcases your commitment to transparency.
To become an OpenCompany, you must follow these 5 steps and get your profile badge that tells candidates that you're active and engaged on the site:
Update your company profile and make sure it is current

Get reviews

Add company photos

Respond to reviews

Promote your profile
To maintain OpenCompany status, every 12 months you'll be reminded to complete the five steps to ensure your continued engagement as a transparent employer.
2. Invest in the "Enhanced Employer Profile"
Trust us, this will be well worth your money. Not only will you get the perks of having an additional fully branded microsite in a place where the majority of candidates are researching you, it will also show people that you take your Glassdoor presence seriously, including candidate and employee impressions of you as an employer.
Once you've upgraded your profile, add content to your page by uploading your logos, company videos, employer brand narrative, and job postings. Glassdoor also offers job advertising and the ability to feature a review of your choice, amongst other things.
Bonus: Scope out your competition
Check out your competitors' review scores on Glassdoor and find some kind of baseline that you should be reaching. Pro tip: If you upgrade to an enhanced employer profile on Glassdoor, you can actually compare yourself side-by-side to your competitors using the competitive intelligence tools in the employer dashboard. This also stops competitors from advertising on your profile and allows you to benchmark against your talent competitors and find out what differentiates you and how you stack up against them.
3. Assign someone to respond to all reviews
While this responsibility would preferably fall to someone in Recruitment Marketing or Employer Branding, if your company does not have either of those functions, it should be someone either in Leadership, HR, Recruiting, or PR/Marketing. Having leadership, or the hiring manager of the team specifically mentioned in reviews, respond directly can be very effective but we suggest first training them on how to appropriately respond to reviews on Glassdoor, before unleashing them on those public-facing reviews.
One of the most commonly asked questions when it comes to Glassdoor is "should I respond to negative reviews?" And the answer is yes. Most employers are fearful that if they respond to a negative review, it will legitimize the critique. However, employers who don't respond to negative reviews look indifferent or unconcerned with employee complaints. Responding well can turn a negative review into something even more valuable and effective than a positive review. It shows that your company is not perfect, but working towards improvement, and that you listen to and appreciate employee and candidate feedback.
The easier (and just as important) part is responding to the positive reviews. This will make your employees will feel appreciated and you'll be well on your way to building lifelong employee brand ambassadors.
If you are fearful of inflaming already sticky situations with your replies, Proactive Talent partners with our clients to provide them with formulated responses that will diffuse tension and make your employees feel heard, while reinforcing your EVP.
4. Track themes
While we all know that not every single review posted on Glassdoor is accurate, just like Yelp, you can pretty safely side with the majority.
One of your designated Glassdoor Admin's responsibilities should be to identify reoccurring themes. Once identified, HR should be looped in to deal with the overarching systemic problem areas. This is also an easy (and quick) way to keep tabs on your employee satisfaction between annual employee engagement surveys.
5. Ask Your Employees & Candidates for Reviews
Many people wonder how to get employees to write Glassdoor reviews. While this is not unethical, it does depend on how you ask. No employee should feel forced in any way to write you a positive review. Asking employees to leave you a positive review can backfire and candidates will lose faith.
The key to having a higher likelihood of getting more balanced reviews is all about timing. Here are some examples of perfect opportunities to ask someone to write your company a review:
When you hear someone sharing positive feedback about your company

When extending an offer to a candidate

Work anniversaries

Promotions

Meetings where you are recognizing a job well done

Fun activities like work happy hours and company retreats

During a company "All Hands" meeting (under the context that Glassdoor is a place you are monitoring for employee feedback and you want more of it)
While following these steps will certainly increase your Glassdoor rating and improve your candidate perception, many companies still experience recruiting challenges even with high Glassdoor ratings. But don't worry, Proactive Talent has your back. With our Recruiting Optimization, Employer Branding and Training services, we can help you address and resolve the underlying issues that are preventing you from becoming a highly successful and attractive company.
If you found this post helpful, give us "5 stars" by liking, commenting, or sharing!
Comments