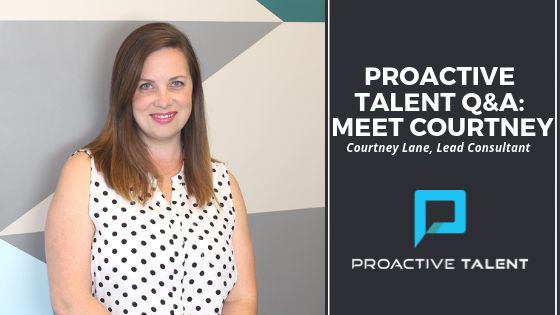 We want to introduce you to Courtney Lane, our new Lead Recruiting Consultant and one of the newest members of the Proactive Talent tribe! Courtney is based in Austin and came onboard with us in August. We did a quick Q&A session with her so you can get to know her a little bit and understand what she brings to the table for Proactive Talent and our clients.
1. Where have you worked in the past and what led you to Proactive Talent?
I started my career as an Assistant HR Manager in the hospitality sector for a John Q. Hammons hotel property under the Hilton brand in Arkansas. Not only did I learn the ins and outs of HR in this generalist role, I was also introduced to a customer-centric approach to HR, thanks to Hilton's "surprise and delight" philosophy. Following a move to Texas, I joined my first healthcare system, where I had the opportunity to work in a variety of roles as a part of the Talent Acquisition organization. It was here that I discovered my love for the recruitment function, specifically the people experience (candidate, hiring manager, broader organization, etc.). Over the next ten years, I continued my work in healthcare (with a stint back in hospitality for a period), with a focus in recruitment, talent strategy, and organizational development.
After earning my Master's in Industrial & Organizational Psychology, leaving the corporate space and moving into a consultant role was a personal goal of mine. I was ready to challenge myself in a new way from what I felt an in-house role could really offer. When I was introduced to Proactive Talent, I could sense something special about what the team was doing. Talent strategy, employer branding, and direct delivery of recruitment services is something I knew from my own experience was so often needed, yet rarely available to organizations through a single source. It is an exciting opportunity to be a part of that - one I couldn't pass up!
2. Why should clients work with Proactive Talent?
Organizations today are experiencing rapid growth and/or change. Keeping up can be difficult for even the most organized or well-intending businesses. The beauty of our model is we can deliver the pieces an organization needs, as they need it. While we offer a full package that any organization could benefit from engaging as a whole, we understand that not every organization is the same. Our scope of work is connected, but still flexible and customizable to what the client really needs.
3. Why should clients work with you?
I think what I love about the healthcare and hospitality sectors in particular – the focus on delivering exceptional service – is really reflective of my approach with clients. The experience someone has, whether as a customer, employee, or applicant, will ultimately drive their perception and future engagements with that business. I hold myself to that same standard. At the end of the day, regardless of how "good" I may think my work is, if the client doesn't have a positive experience, then I've failed. I've learned that the more willing we are to truly understand what someone needs, the easier it is to actually deliver results.
4. What are the most common challenges you have with clients?
I think a common challenge with anyone, not just clients, is an inclination for instant gratification. We, as humans, can be so focused on the end result, that we forget the importance of the steps required to get there. Taking an intentional and thoughtful approach to a problem or goal is key for lasting long-term results. For example, when a client has a critical hiring situation. The immediate need is real, but a failure to recruit with purpose (and a plan!) can quickly turn into a fast hire, but a bad fit. Six months later you are back in the same critical place, hiring for the same position again. Not only is turnover expensive, but you risk damaging employee morale and confidence in leadership's ability to make sound decisions.
5. What are the most common mistakes you see recruiters make?
I think the most common mistake I see recruiters make is a lack of communication, both with hiring managers and candidates. At the end of the day, recruiting is all about relationships. And healthy relationships come with frequent and open communication. It is easy to get buried in the "work" of recruitment or assume everyone "knows" what is going on, but if you aren't actively keeping hiring managers and candidates in the loop and informed, you are setting yourself up for unhappy customers and even potentially unfilled positions.
6. What are your top 2 tips to recruiters?
Respond to unread messages before the close of each day. Hiring managers and candidates alike would rather hear that you are working on getting them an answer than hear the perfect answer after several days of silence. People want to feel acknowledged. This daily practice can help you prioritize the next day's activities and also minimizes the likelihood that a critical message gets lost in a sea of unread messages.

Consider candidates beyond your book of business. A good recruiter knows that when they have a good candidate on the line, they should be looking at all open positions in the organization, not just the ones they are directly supporting. Not only does helping the candidate navigate open positions create a great candidate experience, it also helps your teammates and the broader organization.
7. What about recruiting are you most passionate about?
In a data-driven world (and don't get me wrong, I love data), it all comes back to the "people" piece. I look at recruitment as the gate-keeper for organizational culture. Screening for KSA's has its purpose, but just because someone checks all the boxes on paper, does not mean they would necessarily be a fit for the position or company. Enter, recruitment. We do what no computer or automated process can do – we get to know the people. The ones who currently make up the organization and the ones who may join someday in the future. We get to hear about people's past successes and struggles, learn their goals and plans for the future, and be a part of exciting new challenges or changes. It's a really awesome job.
8. What's next for recruiting?
I think the technology that is coming out in the recruiting space right now is creating some exciting momentum for where talent acquisition is headed. I don't believe technology will ever replace a recruiter, but I do believe that technology will expand what a recruiter is able to do and how many people they are able to reach. Technology is making it possible for recruiters to focus on delivering meaningful hiring experiences for candidates. And with the current competitive market for talent, creating an experience that is impactful is an important differentiator for any company. I think we are about to see recruitment get creative and expand in ways we never would have imagined even just five or ten years ago.
Comments