One of the most popular quotes in the past few years must be, "These are interesting times" because I have heard it repeated on countless occasions, especially as it relates to our economy. No matter your position on the political spectrum, everyone agrees that the market is taking a slide towards a downward trend. As to how far that descent will carry us remains to be seen, but the common speculation is that recession is near and maybe worse. Here is a quote from CNBC where they point out four mitigating factors impacting the markets today.
Those high-level trends are inflation, the Federal Reserve's interest-rate policy, the U.S. dollar's strength and the Russian invasion of Ukraine, said Barry Ritholtz, chief investment officer and chairman of New York-based Ritholtz Wealth Management.
"The macro environment at present is uncertain," Anastasia Amoroso, managing director and chief investment strategist at iCapital Network, said.
"We've been at this for nine months and what have we really figured out" except that inflation is longer-lasting than expected, she added.
Major tech companies have long sensed the approaching storm and have been taking proactive steps to prepare for the worst by making layoffs and implementing hiring freezes. Business Insider reported on this recently. To quote...
While a recession hasn't arrived yet, there's no doubt the chatter about when one will hit has ramped up.
After a robust year of economic recovery when Americans spent big and there were more than enough jobs to go around, companies seem to be tightening their belts. To be sure, experts have told Insider that the next recession will be much milder and feel very different than the pandemic recession or the 2008 housing-bubble collapse and financial crisis.
Still, companies from Meta to Walmart have given signals in recent months that they are bracing for a downturn, while other major retailers and tech companies have made their own large cuts as a recession looms.
Proactive Talent recently surveyed 141 Human Resources, Talent Acquisition and Recruitment professionals and asked if they were hiring. The overall majority (80%) were "hiring for growth." The next biggest response was "hiring for replacement" (11%), followed by "hiring freeze" (6%) and "making layoffs" (3%). So, what does this tell us?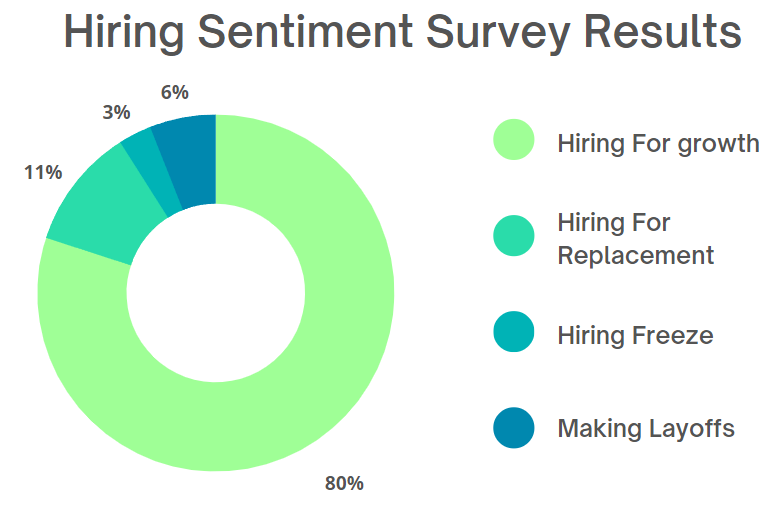 Despite the uncertainty of the market, business continues and as a result, hires must be made to maintain and grow said businesses. We discussed this in our article - WHY YOU SHOULD BE RECRUITING DURING RECESSION 2022 and gave compelling reasons why companies should resist freezing hiring entirely. Among them...
During a recession, there is more top talent available than usual.

Why? They are nervous that their position may be in jeopardy, so they quietly begin exploring new opportunities in case company layoffs affect them personally.
During a recession, top talent can be hired (sometimes) for a lower salary.

If the choice is a lower salary verses no salary, odds are that the lower salary option will win out. This may be one of a few chances to hire true A players who normally might not give your company a thought prior to.

When the recession is over, the war for talent will commence with new fervor.

Your talent rivals will start seeking out the best workers and maybe your "A" players will leave you. However, if that happens, there is a chance your company will be in a better competitive position because of their input.
Our CEO, Will Staney, was asked in a recent podcast what he was seeing in the market now and said this...
"[I see a lot of] uncertainty. No one knows what's going to happen next which makes it hard to plan and budget. Pandemic, war, broken supply chains, inflation, looming global recessions, increasing interest rates, political and social unrest and polarization. It's a difficult time right now. So, you're seeing companies freeze up...literally. Freeze hiring. Slash budgets. They seem to be holding their breath before making future growth investments."
His analysis continued to cite what was happening in the tech sector.
"Tech has been on a decade plus run of growth as well as a major hiring spree during the pandemic and it's now hitting a reality check. Overall, these companies need to stay lean, and while we're now seeing the most layoffs in the big tech sector, 44k in US and 77k+ globally, at the same time they are still struggling with a talent shortage, especially in the areas of engineering. So, they need to stay lean and nimble while adopting best practices for hiring in what seems to be still a candidate-driven market with increasing wage demands due to inflation.
One attempt to be lean and more nimble, has been the act of firing contractors and being more intentional with their hiring practices; something Apple was reportedly doing. A report on their progress was cited in Apple Insider. To quote...
Apple has recently been reported to be planning to slow down adding new staff. Tim Cook has directly said that he wouldn't characterize it as such, and instead says hiring will now be more "deliberate."
According to Business Standard, however, the company has now laid off some of its recruitment staff. Some 100 who were employed on a contract basis, have reportedly been laid off in the last week.
The 100 include recruiters based at Apple's offices in Texas and Singapore. Reportedly not all such contractors were laid off, and it appears that Apple is retaining all of its full-time recruiters.
While a shrewd business decision, the impact of massive layoffs could be quite negative in the long term. For example, Chief Executive commented on how American Express faltered when they leveraged layoffs as a profit exercise.
About a year ago, American Express was "making money, but not enough to quell investor concerns," Bidwell explained. The company had a revenue growth target of 8%, and decided to meet it through a cost-cutting initiative that included layoffs. "After announcing that it would shed 4,000 jobs, American Express's stock price took an immediate slide, and remains down by about 25% since that announcement," Knowledge@Wharton said.
Wharton management professor Adam Cobb pointed out that layoffs have a hidden cost to companies that can hit the bottom line years later. To quote...
"Layoffs are going to reduce costs immediately," says Cobb. "But what does that mean two or three years from now when the firm is growing and now has to ramp back up by hiring a bunch of people? Now the firm must incur all these costs to hire and train workers."
In addition to the laid-off employees, he adds, other workers may now leave voluntarily all of which is disruptive for the firm and lowers productivity.
"Layoffs may look good on paper because they have an immediate effect on costs. Yet in reality there are a lot of costs that layoffs impose on firms that might not show up on an income statement quite as clearly."
Be that as it is, companies are forced to deal with constant change and disruption in the marketplace. How can small businesses to enterprises stay agile and move quickly on a consistent basis? Once again, Will Staney has some insights that were mentioned in an upcoming podcast.
[Companies should] move away from point solutions and multiple vendors for various aspects of the candidate lifecycle to holistic partners and integrated systems. Integrated tech stacks give better and more actionable data. The bumper sticker approach of recruiting tech stacks and vendor relationships is not nimble or integrated enough to navigate this. Typical models of support when you have a lean recruiting team like traditional RPOs and contingent hiring can do damage to your bottom line, recruiting process, candidate experience, and employer brand. It also makes it really hard to be nimble when you're locked in long-term contracts with an RPO or need complicated integrations to the real-time data you need.
He continued his analysis with this...
Agile RPO is the way to go. Hiring can have a lot of stop and go in a market like this. You need to be able to add firepower when you need it and turn the hiring spigot on or off as your business demands change.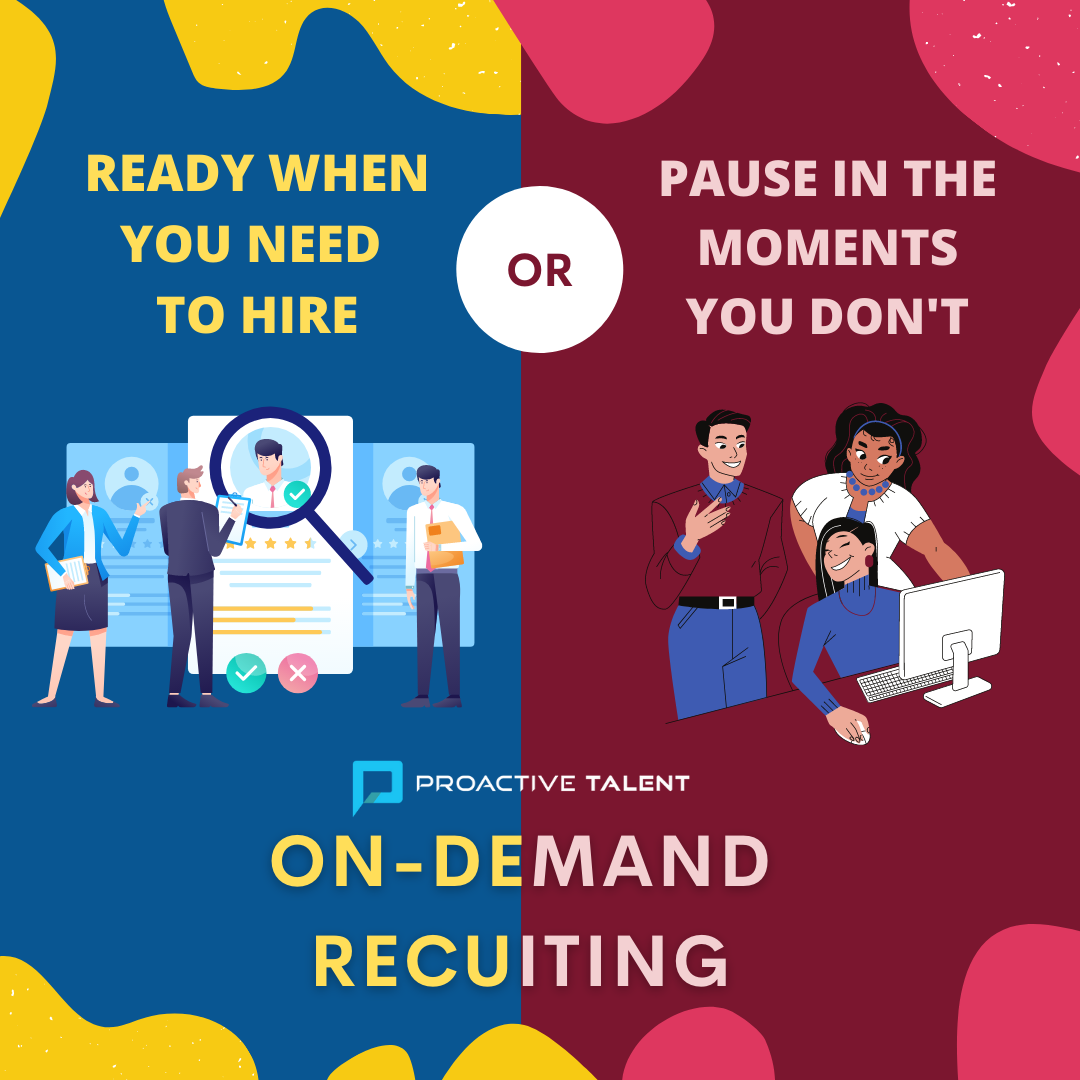 Despite the uncertainty of the market, now is the perfect time for Talent Acquisition teams to be laser-focused on showing value beyond "placing butts in seats." A short list of what needs the most attention for short-term and long-term benefit. For the short-term, recruitment optimization of your processes, automation to reduce repetitive tasks and augmentation of technology to increase the efficiency of your systems can produce immediate and perpetual benefit to your hiring initiatives. Conversely, a devotion to candidate experience and employer brand will ensure that you can attract passive candidates. As to which strategy you undertake, short-term or long-term, both need to be implemented immediately for recruitment success; especially in these unprecedented times.
If you are among the companies hiring for growth these days and could use assistance in not only recruiting talent, but also attracting and retaining talent, click here to book time on our calendar (or on the button below). We would welcome the conversation.
Comments