Have you heard of "The Great Resignation?" The Great Resignation is this phenomenon where people are quitting their jobs en masse even as recent labor numbers show that the economy is recovering after the financial impact of the pandemic.
People are quitting their jobs for a variety of reasons: post-pandemic burnout, shifting personal priorities and the fact that are more job opportunities out there so workers can afford to take their time and look around. To my knowledge, this has never happened before and brings to light an interesting question. When is the best time to try to retain your staff? Ideally, it is before they've started a job hunt but you cannot know when that is. And this is especially challenging when the market supports a mass worker exodus.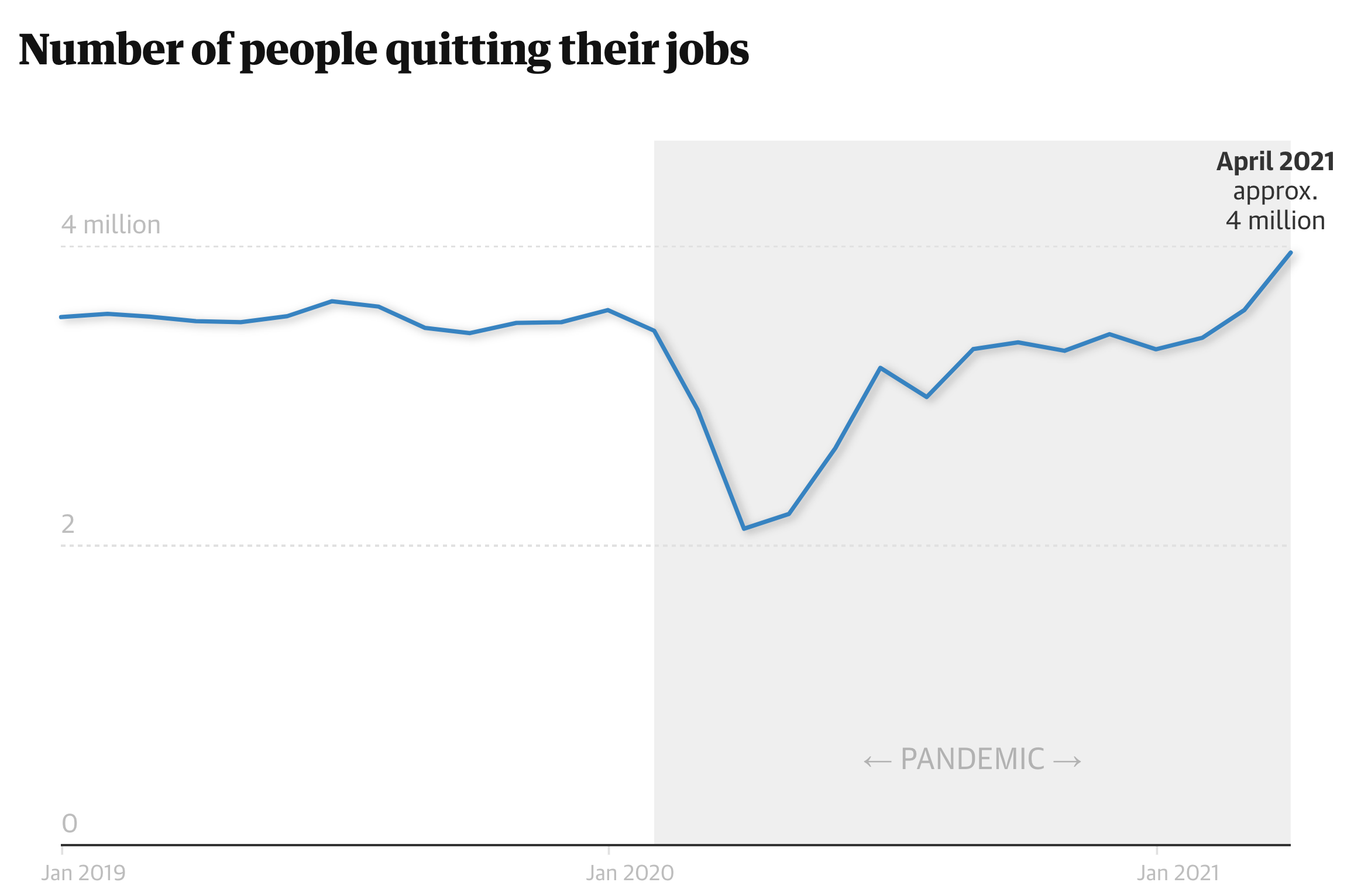 Source: US Bureau of Labor Statistics - Job Openings and Labor Turnover Survey. Data is seasonally adjusted.
Like most things in life, timing is everything. A good time to initiate retention efforts with your workers is around quitting peak times. Entelo is a privately held technology company in San Francisco, CA. They offer a SaaS platform used by recruiters and hiring managers to find and engage talent. In 2014, they published a study that showed when employees were likely to leave their jobs. Let me share with you some insights from their analysis of millions of resumes and how that data could be leveraged to keep your employees with you a little bit longer.
Ten times as many people leave at year one than they do at five years. Such being the case, I would suggest teaming them up with a mentor during the onboarding process. Someone who can coach them through the day to day activities and perhaps give guidance on their career path inside the company. Moreover, involve new hires in a series of teambuilding exercises and/or excursions so that friendships may form. Why do this? Research has shown that strong social connections at the office can boost productivity, employee engagement and

less likely to quit their jobs

. And I guess it goes without saying but, I will anyway. Make sure the first year of a new hire is awesome!

Quitting peaks around work anniversary times. That being said, it may be advantageous to schedule new projects (or major initiatives) shortly before work anniversaries. Reason being, if they are given challenging work assignments that help them to grow professionally,

they tend to stay longer

.

Quitting peaks around work anniversary times. And yes, I know I am repeating myself. However, I want to suggest another use for this data. Why not reach out to corporate alum who are within 2-3 months of their work anniversaries? Such would be the optimum time (statistically speaking) for reaching out to star talent that got away.
Make sense?
If you are facing an employee retention challenge, perhaps we can help. We offer services related to diversity, equity and inclusion initiatives, learning and development offerings as well as coaching and advisory services. Click here and let's chat about it.

Comments