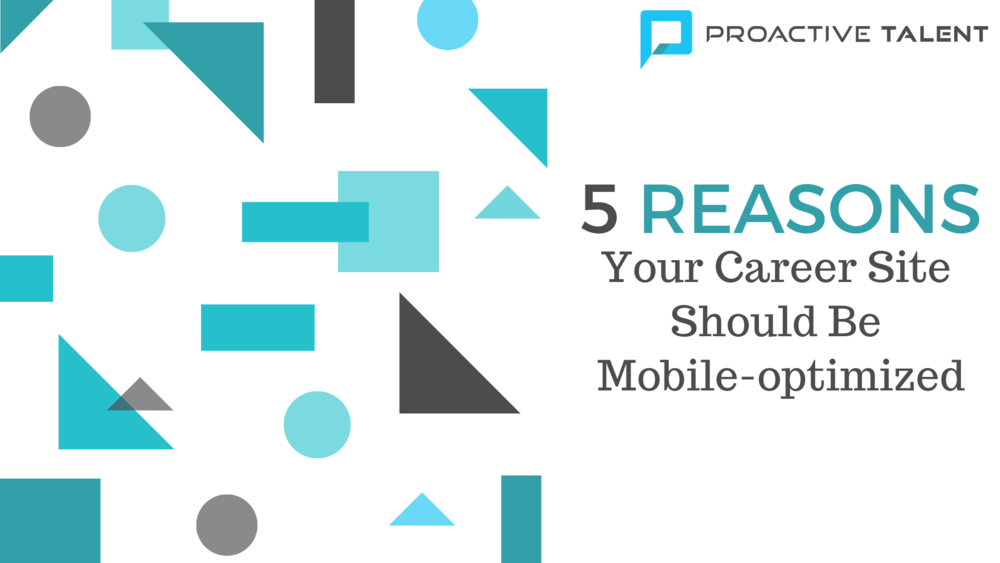 If you don't already have a career site that is optimized for mobile, you're a little behind the times. But don't worry, it's not too late! If you're not sure why having a mobile-friendly career site is important, let us break it down for you. This post will address how this one small shift will boost your number of applications and improve the candidate experience.
First, let's examine the technological landscape. As you probably could have guessed, smartphones have changed the recruiting game. In early 2018, the Pew Research Center reported that 77% of Americans own a smartphone, and you can imagine that number has only increased since then.
Additionally, many people use their smartphones in their job search, about 90% to be exact. The same article also reported that "more than three in five prospective candidates look at a company's career pages from their smart phones or mobile devices." The industry also plays a role in these statistics. According to Indeed's research, "the occupations with the highest rate of mobile job search are building and grounds cleaning and maintenance, with 80.28% of job searches originating from a mobile device. This is followed by construction and extraction at 79.79%."
So, why should you, as an employer, bother with making sure your career site is mobile-optimized?
1) It will make it easier for candidates to find your job postings.
Back in 2015, Google's ranking algorithm began prioritizing sites that were mobile friendly. That's good for your job postings, if your career site is mobile-optimized. Hello, first page! If not, it might be time to think about it.
2) The ease of a mobile site will improve the candidate experience.
A slow application process (like requiring candidates to apply on a desktop) will lose you candidates. 65% of candidates searching for a job on a mobile device will leave the site if it is not mobile-friendly. Candidates will appreciate being able to find a job, research the employer, and apply for it, all while they are on the go. Plus, being mobile means you can easily lean into images over text.
Hint: Another easy way to improve the experience is to never ask candidates to manually input their information if they are attaching a resume. "Ain't nobody got time for that!"
3) It will increase your referrals.
Mobile-friendly career sites make it easy for current employees to refer their friends by sending a simple link or sharing a job posting on social media. Bonus: mobile can also make it seamless to track these referrals. Don't miss out on this opportunity!
4) You can take advantage of the GPS.
Candidates applying on a mobile device are perfect for geo-targeted ads. That means you can send them targeted job ads depending on their location. For instance, when they are visiting one of your competitors (specifically if you know layoffs are happening), or at college campuses for recruiting events, etc.
5) It's an easy way to set yourself apart from your competitors.
The vast majority of employers do not have a mobile-optimized career site, which is great news for you, if you do! This is a simple step that can change a candidate's impression of you as an employer. Are you relevant and evolving with the changing times? Or are you archaic and stuck in the past? Shockingly, 40% of people searching for a job on a mobile device will view companies more negatively if their career sites are not mobile-friendly.
Proactive Talent
Having a mobile-friendly career site is only one tiny piece in a much larger recruiting strategy that you should be considering. For bigger-picture help, consider our Recruiting Optimization services, or contact us for a free consultation!
Comments