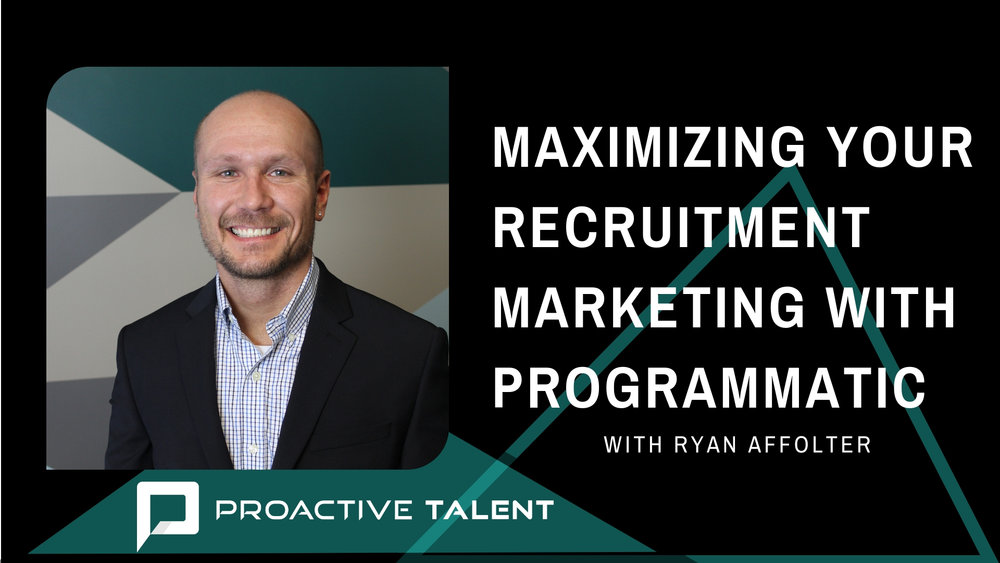 Say you and your friend both own the exact same Dodge Ram pick-up truck, but one of you uses it to tow a boat to the lake and the other uses it for mostly inner-city commuting. You're going to have drastically different MPGs, but it isn't due to the vehicle, it's because of the way it was driven. While you have the same vehicle (technology) the goals and objectives are much different (outcomes).
You can apply the same thought to recruitment advertising. Employers have vastly varying recruitment needs from the hard-to-fill nature of high-tech and medical science to the high volume hiring of retail, service workers and warehouse employees.
However, no matter the industry, I always ask my clients, "Are you getting the most out of your recruitment advertising spend?"
Talent Acquisition leaders have hundreds, if not thousands, of recruitment advertising options to choose from - Indeed, LinkedIn, Glassdoor, ZipRecruiter, Jobs2Careers and job boards like CareerBuilder and Monster, just to name a few. There is an exhausting universe of popular job boards, websites, niche channels and social sites candidates visit.
This leads to a lot of questions. How do you know which channels are the most relevant or effective, and why? How do you know which ones will perform best for your industry, your region and most importantly, your specific job profiles? How do you tap into measuring the value without investing in long-term contracts with popular job boards (sometimes for an entire year) at fixed contract rates you are paying for upfront?
On top of those questions, most of the employers I work with are concerned with real challenges like:
Restrictive budgets - do

more

with

less

Showing Return on Investment (ROI)

Actionable results (applications, quality apps, interviews, offers and hires)

Flexibility based on hiring needs
Many employers deal with these headaches regularly, especially every fiscal budget/contract season.
Additionally, employers simply can't afford to waste spend on positions they are already getting enough free and/or low-cost applicants for. If you're posting all your jobs and 90% of your applications are going to the 10% of jobs that don't need advertising lift to begin with, you're left with a lot of waste. And, in a lot of cases more applications than you can handle in areas that just simply don't need it. What if you could create systematic rules to control what jobs get the majority of your budget, and cap the jobs that have already received enough budget or applications? That is the power of programmatic advertising.
When you buy an annual contract with a job board and your hiring needs change (for example, you traditionally have a hiring ramp down in the Summer), it's not as easy to shift your advertising strategy to reflect those trends. You're stuck in your annual contract with the same stale strategy and spend month-over-month. What if you could optimize your budget towards the volume of high-priority jobs you have open along with the seasonal trends of your recruiting strategy? That is the power of programmatic advertising.
The mindset and strategy that helped employers succeed in the ("post and pray") era simply do not apply to a landscape where most media is digital, and a vast majority of media channels can be transacted in biddable, pay for performance, environments. Instead of paying for traditional job postings, you only pay when a candidate clicks or applies to your jobs, so you eliminate wasted ad spend.
Programmatic Job Advertising Technology
Programmatic technology uses predictive analytics, real-time data, and programmatic bidding to maximize your recruitment results for better cost, volume, and quality. When employers switch to a strategy that's based on programmatic rules, some of the immediate benefits are:
Ability to tap into a broader reach of media channels and access more candidates

Trim wasted spend by capping jobs once they reach a certain amount of applications or budget spend (whichever comes first)

Create campaigns to prioritize your highest need, aged jobs without traction or highlight your hard-to-fill positions


Now that you can easily see the value of incorporating programmatic to your recruitment marketing strategy, here's a few tips we advise to our clients:


Sync your jobs: Sync all your jobs to the software to make sure you can set automated rules across your entire recruitment marketing strategy.

Set your overall budget: You are always in control of your marketing budget, though our experts will help you make suggestions to maximize your application and overall hiring goals and objectives. Budgets can be determined on your own or based on demand planning (e.g. we need 10 applications and an average CPA is $15 per applicant x how many jobs).

Set your budget caps: Cap jobs to ensure there is not too much candidate flow or wasted spend. For example, stop job specific campaigns at 10 applications or $100/job.

Set your priority rules: Make sure your highest priority gets the focus of your programmatic budget, not the easy-to-fills. For example, if a job has less than 10 applications after 14 days, increase the exposure of the ads in the programmatic marketplace.

Never set-it and forget-it: Continually test, measure, learn, optimize - and most importantly, expand only where you see success. Our team works as a partner for our clients to not only manage the many vendor relationships needed to execute your strategy but also help you continually optimize your strategy and results over time at no additional cost.
At Proactive Talent, we empower our clients with programmatic technology through our alliance with Recruitics, an industry-leading programmatic technology and analytics platform. With Recruitics' technology and Proactive Talent's industry-leading experience building world-class talent strategies you can take control of your recruitment marketing and produce a greater ROI. Working with our team can help you easily distribute, optimize and automate the management of your job advertising through a rule-based interface. We can consult with you on setting up a programmatic strategy that is the right budget and rules-based algorithms to maximize your budget and minimize your waste. Ask us how and we'll help you get started getting the right applicants to the right jobs and decrease your cost per application, today.
Comments