With more than 810 million members in over 200 countries and territories, LinkedIn is no doubt one of the world's largest social and professional networking sites, making it a great talent attraction channel to add to your recruitment marketing machine.

So where do you start with your social media employer branding on LinkedIn? Whether you're working with little or no budget or are looking to make a bigger investment this year, here are 7 LinkedIn features and tips you'll want to know to help you stand out from your talented competitors and build your employer brand to attract, reach and hire the top candidates your company needs.
1. Encourage Employee To Update Their Profiles
An employee's LinkedIn profile is a great opportunity to promote your company's employer brand. Just like online shopping, today's job seekers will research your company online before they even consider applying. And one of these places they will likely look is LinkedIn.
So, encourage your employees to update their LinkedIn profiles. Hold lunch n' learn sessions or office hours and provide virtual trainings and resources to make it as easy as possible for employees to help amplify your employer branding on LinkedIn.
For example, at GE Digital, many employees were struggling with how to tell the company and culture story externally, so we helped develop employer brand messaging that they can use and add to their Professional Summary and Experience sections to share more about the company's mission, work and teams. This also helps ensure employees are representing and speaking about your company in a consistent manner.
Another best practice we've seen many companies do is encourage employees to add links to the company's careers site or employer brand content, such as recruiting videos, to their LinkedIn profiles. This is not only a great way to drive traffic to your careers site and employer brand content, but to also invite candidates to learn more about your company culture, people, and jobs.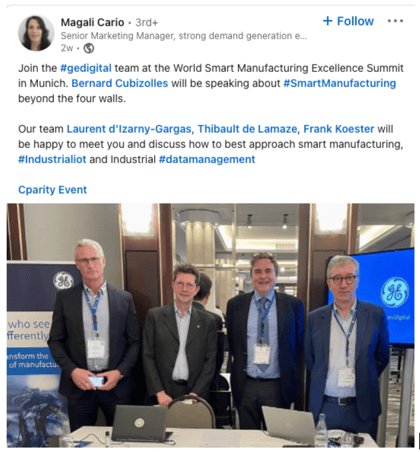 2. Share Employer Brand Content Regularly
Many followers of your LinkedIn company page are job seekers and candidates interested in working for your company. Help them learn more about what it's like working at your company by regularly posting employer brand content on your company page that showcases your company culture, people and employee experience.
A strong employer brand is good for your business too. According to the American Marketing Association (AMA), companies with a strong employer brand saw a 20% increase in their revenue, whereas those with a weaker brand only grew by 8%.
The thing is, people are much more likely to buy from or do business with someone they trust. The Annual Edelman Trust Barometer found that people today trust an individual or peer like themselves much more than a company's CEO, senior executives or corporate channels.
By sharing authentic stories about the real people behind your company and products, you're giving both potential candidates and customers a real "insider" look and perspective into your company, and this adds transparency and humanizes your brand, ultimately helping your company build a more relatable, memorable, and trustworthy brand to grow your business.
Sharing employer branding content on your company's LinkedIn page is a win-win for both Marketing and Talent Acquisition. Partner with your Marketing team and collaborate on your content strategy that best serves all your audiences on LinkedIn.
Netflix is a great example of a brand that shares an excellent mix of both marketing and employer brand content on their LinkedIn company page. And this strategy is clearly working for them. With over 8.4 million followers on LinkedIn, their most successful recent post was actually employer brand focused, garnering almost 9,000 reactions and 1,165 shares. Talk about free marketing for both the Talent Acquisition and Marketing teams!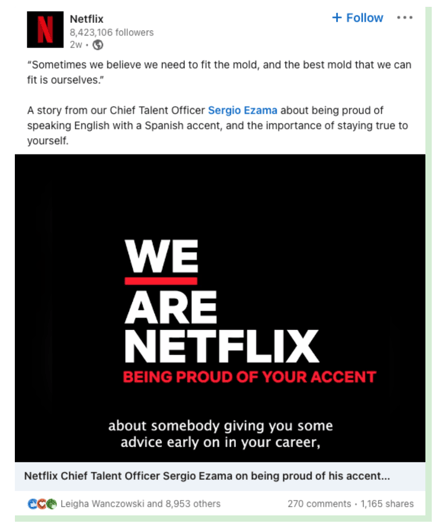 A recent culture-centric post from Netflix that was very well engaged.
3. Post Targeted Status Updates
Like Facebook's organic post targeting feature, you're now able to target your posts based on your audience's demographics, such as their industry, geography, seniority and company size. This ensures that you're sharing the most relevant content with your followers and won't risk overwhelming them with multiple posts a day – some of which may only be relevant to a certain segment of your audience.
For example, if you're promoting an upcoming open house or hiring event in your San Francisco office, it might not make sense to be sharing this post with your audiences in Asia since they can't physically be there and attend the event in-person. In this case, it may make more sense to target your followers in California who are much more likely going to engage with your post and actually be able to attend the in-person event.
4. Help Employees Build Their Personal Brand
Your employees are your best brand advocates. Research has shown that brand messages shared by employees get 561% more reach and 8 times more engagement than from a company's brand channels.
Offer social media trainings to help your employees build their personal brand and educate them on how they can contribute to your employer branding efforts on LinkedIn. This can include everything from posting content about what it's like working at your company to sharing your employer brand content and contributing to discussions in LinkedIn groups relevant to your industry.
65% of job candidates would consider a new job opportunity if they heard about it through a personal connection in their network. Having your employees visible and amplifying your employer brand is the best way to get your company on the radar of qualified candidates who are active on LinkedIn and are a part of your employees' professional networks.
5. Add Careers & Life Pages
If LinkedIn is one of the main channels where your target candidates are spending their time, then you probably want to consider investing in a LinkedIn Career Page and utilizing the Life tab. This gives you a specific, central "hub" to promote your employer brand and jobs on LinkedIn, beyond your company page. LinkedIn's Career Pages provide you with the opportunity to attract potential employees, and the additional Life section gives candidates a closer look into your organization and culture.
There are a variety of widgets you can use to showcase your company's mission and values, culture and people, and show what life is really like working at your company. For example, you can add videos, photos, employee testimonials, feature leader profiles and highlight LinkedIn articles that employees have published.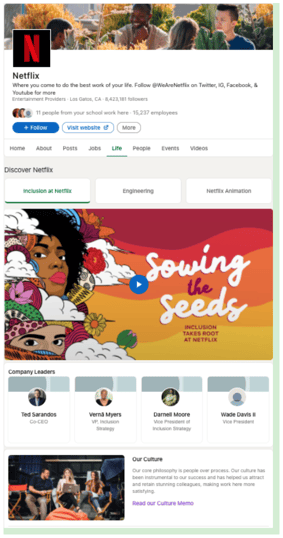 Here's a look at Netflix' LinkedIn Life page and the potential to really make it show off your company culture.
One of the huge benefits of enhancing your LinkedIn profile with the Careers pages, and more specifically the Life or What We Do tab is the level of personalization available. For example, at GE Digital, they've identified that their key hiring focus right now is on software engineering and early careers and university recruiting, so they've built pages within their Life tab that focuses on these areas. They also have a general "Life at GE Digital" section that focuses on overall company culture and what it's like to work at GE Digital.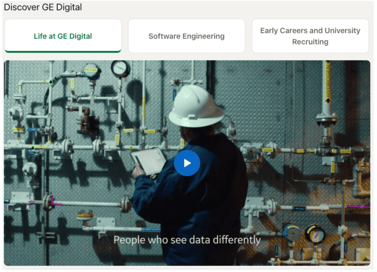 You also have the option to make these pages targeted, where they automatically respond and display the most relevant careers page based on the LinkedIn member's profile visiting your LinkedIn Careers Page.
For example, if an individual is a product manager and she goes to your company's Careers Page, she will automatically be directed to the Product Management targeted page. With targeted LinkedIn career page examples, candidates can view the employer brand content that is most relevant to them right away, without having to click and navigate multiple places to get to the information they want.
6. Try Sponsored Updates
If you're looking to increase your overall brand awareness and following on LinkedIn, or are trying to reach a specific group of candidates for certain job openings or to promote an upcoming hiring event, you can improve your reach with a sponsored update.
Just like Facebook's boosted posts or ads, sponsored updates will show up in your target audience's feed, helping to increase the chance of your content getting seen. With sponsored updates, you have the ability to set your own budget with different cost per click or cost per impression options to choose from.

7. Use Work With Us Ads
With Work With Us ads, you'll have an opportunity to promote specific jobs, Career Pages or other places on LinkedIn when an individual or an employee's connection views their profile.
Like sponsored posts, you'll also have the ability to customize the ads to reach your target audiences, directing them to the page or to take the desired action you want them to take, such as applying for a job opening.
By using Work With Us ads, you'll also be able to prevent your competitors from placing their ads on your employees' profiles, so your company can stay on top of mind with potential candidates in your employees' networks.
For example, here's a Work With Us ad you may see when you are on the GE Digital LinkedIn page.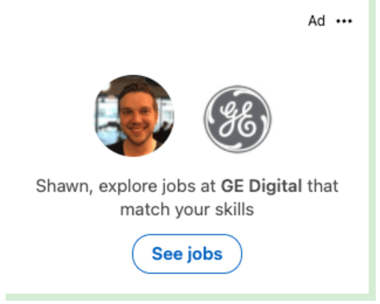 Looking for more tips on how to build your employer brand on social? Check out my last post where I shared 7 Facebook hacks for employer branding.
In my next post, I'll be sharing my top tips and tricks on how you can use Twitter to promote your employer brand. Stay tuned!
Comments