AUSTIN, TX - MARCH 27, 2020
Proactive Talent, the recruiting and employer brand consulting firm revolutionizing the way fast-growing companies like Calendly, Postmates, and Gong.io as well as enterprise firms like GE, GoDaddy and Motel6 attract and hire top talent through its unique and holistic approach, continues its incredible growth with the hiring of Joanna Meis as Principal Consultant, Recruitment Marketing.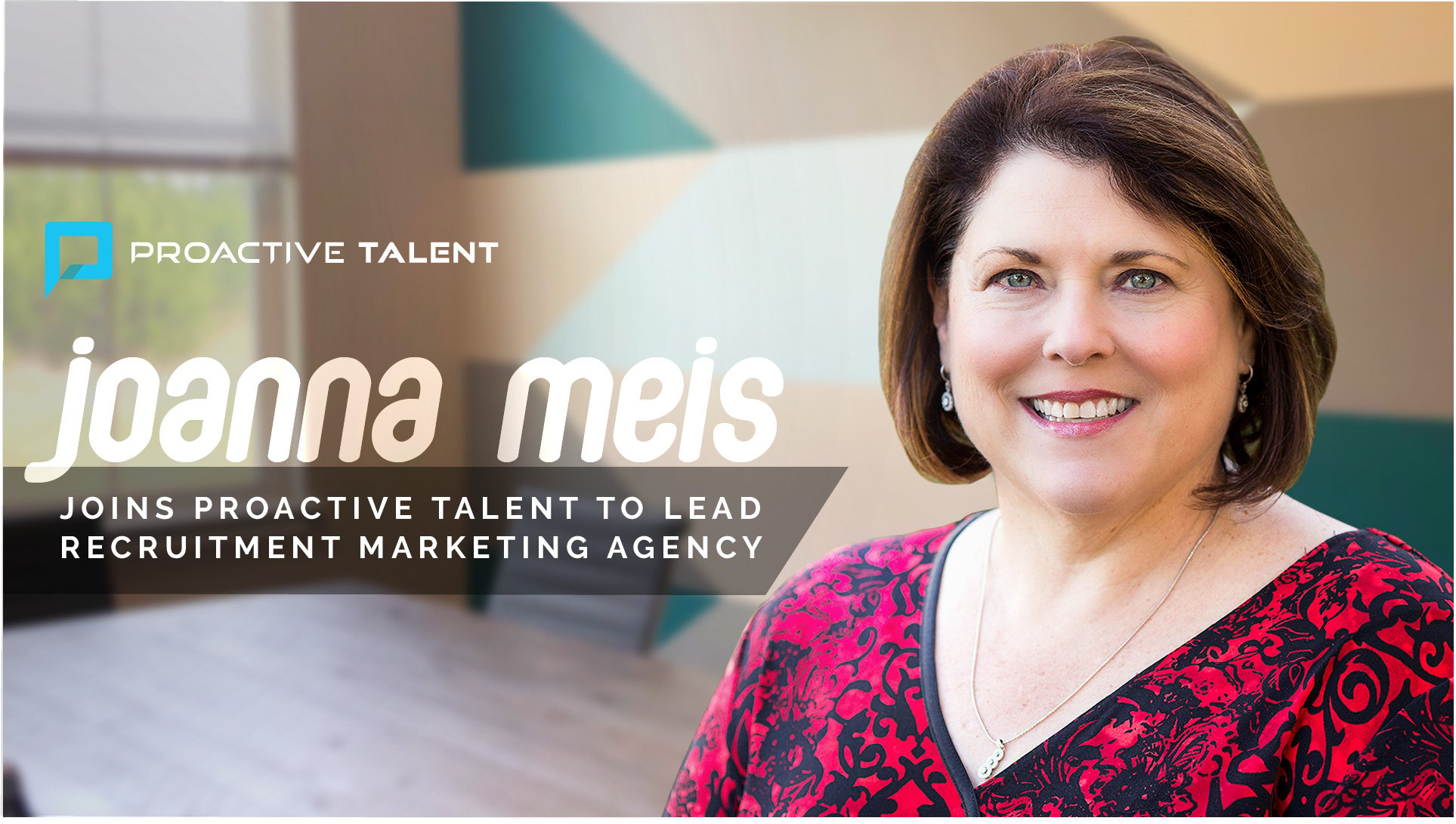 Joanna started her first recruitment marketing agency in a converted garage and helped build it to one of the most successful boutique advertising firms in the country. A self-described data nerd, she brings two decades of results-oriented candidate attraction strategy and employer branding expertise to lead Proactive Talent's Recruitment Marketing practice.

With a background serving a broad range of companies from small start-ups to organizations with more than 30,000 employees, Joanna has a passion for becoming a trusted long-term partner and savvy problem-solver. Relationship building is one of her superpowers, and she considers attaining key customer retention of 12+ years and realizing average staff tenure of over a decade among her greatest achievements.

"In recent years, recruitment marketing agencies started shifting away from providing strategic guidance to putting more value on selling shiny new tech platforms," Joanna observed, "and those of us with a passion for developing real, actionable talent attraction solutions found ourselves in the land of misfit toys." She continued, "When I saw Proactive Talent's holistic approach and commitment to integrity, I knew I'd found my tribe."

"Joanna's deep knowledge and experience in the talent attraction space building award winning agencies from the ground up and her passion for creating amazing client experiences made her a clear fit to join our tribe. She's going to be a strong addition to our leadership team helping to further expand our recruitment marketing agency into the future." says Will Staney, Proactive Talent Founder and CEO.

Joanna has served talent verticals ranging from high-tech to transportation, including years of specialized know-how creating innovative recruitment marketing strategies for healthcare organizations. Ranging from small regional hospitals to some of the nation's largest health systems, her clients have included Memorial Hermann in Houston, Baptist Health System in San Antonio, UT Southwestern Medical Center in Dallas, OhioHealth and Community Health Network in Indiana.

ABOUT PROACTIVE TALENT
Proactive Talent is the leading power partner to your recruiting engine. We're a coalition of recruiting and talent brand practitioners who provide the necessary tools to tighten your hiring gaps, bolster your retention rates and embolden your company mission, giving you the competitive edge needed in the ever-changing recruiting industry. With a holistic approach, we work alongside clients to help them build a powerful recruiting engine that enables them to efficiently attract, recruit, and retain top talent. We specialize in adding power to your full candidate journey from Talent Attraction to Hiring. Our clients include enterprise companies like GE Digital, Vanguard, Motel6, GoDaddy, and Realtor.com as well as fast-growing startups like Anaplan, Earnest, and MyVR.
Comments