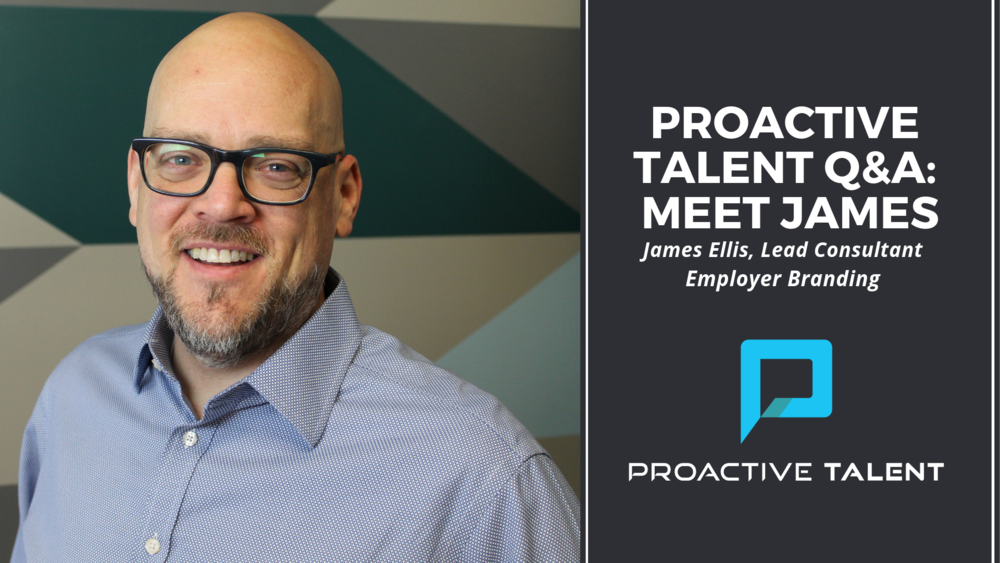 We want to introduce you to James Ellis, our Lead Employer Branding Consultant and one of the newest members of the Proactive Talent tribe! James is based in Chicago and came onboard with us in September. We did a quick Q&A session with him so you can get to know him a little bit and understand what he brings to the table for Proactive Talent and our clients.
1. Where have you worked in the past and what led you to Proactive Talent?
I am an agnostic marketer - meaning, I have done pretty much every kind of marketing under the sun (event marketing, pharmaceutical marketing, state government marketing, software marketing, media marketing, etc.). You name it, I've done it. A few years back, a company came to me and said that since I have so much experience in marketing, they bet I knew how recruiters think. I said, I do, this is true. And the company suggested that I marry my marketing experience with my knowledge of recruiters to become a digital strategist. For my first project, I turned a failing company with only 7 clients into a successful, growing company with 60+ clients within two years. After achieving this, the company wanted to move towards more of an optimization mode, but I didn't find that nearly as exciting. I wanted to be on the frontlines and helping companies take that first leap in development. So when Proactive Talent reached out to me with several clients that fit the bill for exciting work that I love, I jumped at the chance, and here I am!
2. Why should clients work with Proactive Talent?
Clients should work with us because first and foremost, we are our clients' partners. We want to build an employer brand for them that we had to dig for to find the golden nuggets that will attract the right kind of talent. We want to be there for them, to show them how important employer branding is, but also teach them how to search and dig for the right messages they want to broadcast, as well as give them the content and tools to do so.
3. Why should clients work with you?
What it boils down to is that I can help any company beat Google, Amazon, or Facebook at the talent game. This is because I can help my clients be the companies Google, Amazon, and Facebook can't be, which is focused, individual and unique. What I do is find the thing that makes my clients' companies special, and then I project it over and over again, at a level those big companies can't.
4. What are the most common challenges you have with clients?
The hardest part about working with new clients is getting them to understand what, and how valuable, employer branding is. I have to work on making employer branding digestible and presenting it in a way that doesn't intimidate or scare our clients, because people are scared of what they don't understand. There is an education level to this and we all have to come together to learn it.
5. What are the most common mistakes you see recruiters make?
The most common mistake I see is that recruiters believe they do better on their own. This is simply not true. Recruiters do infinitely better when they work together, share their best practices, and have someone working with them to find the client whose story is one you're interested to telling.
6. What are your top 2 tips to recruiters?
If you do something twice, you'll probably have to do it hundreds of times. So, plan accordingly. Instead of writing an "Okay, we've got you coming in for an interview on Thursday at 2:00pm, see you then!" email every time you need it, write an amazing version packed full of useful information (maps, directions, agenda, bios, etc.) and then copy/paste as needed.

You aren't on your own. You will do more working together, sharing ideas and narratives than you ever will on your own.
7. What about recruiting are you most passionate about?
I love getting in front of recruiting and reminding them how direct a role they play in impacting the business. Most of the business has convinced them that they are cost center because they don't directly drive revenue, but they grow the "roots of the tree". Their role is to bring people into the business and people aren't just "the biggest business asset", they ARE the business.
8. What's next for recruiting?
Blowing everything up and re-thinking everything in light of automation - AI, bots, content marketing, gig economy, video, mobile, etc. A recruiter from 1980 would be very familiar with what most recruiters do today, which means we're ripe for disruption.
Comments