With over 2.91 billion people using Facebook every month, and an equally mind-blowing 1.92 billion daily active users, Facebook has undoubtedly become an essential channel for talent attraction and recruiting today.
On Facebook, your employer brand starts with your Facebook page. It's where you can share with potential candidates real, authentic stories about your company culture. Share stories of your work and people, engage and get them excited about the idea of working for your company, and build a community of top talent ready for hire when a role opens.
If you're just getting started with your Facebook Page, here are 6 hacks you'll want to know to effectively build and promote your employer brand, so you can attract the best (and right) talent to join your company.

1. Video Storytelling
People love watching videos, and they're dominating social media and the web. The average person spends 84 minutes a daywatching videos online. As of 2021, 15.1% of all posts on Facebookare video-based content, easily accessible to anyone accessing the site through mobile or desktop. Further, and most surprising of all, 4 billion video viewstake place daily on Facebook, according to 99firms.
If video isn't a part of your employer brand strategy yet, it's time to invest in it so you can better connect and engage your target candidates on Facebook. There are many different video storytelling formats you can use to bring your employer brand to life on Facebook. Let's look at a few.
Video Posts
Go to your Page.
Below your Page's cover photo, click Videos, then Upload Video.
Select a video from your computer.
Add other details you may want.
Optional: Click Video Options to add a title, tags, captions or thumbnail.
Click Post.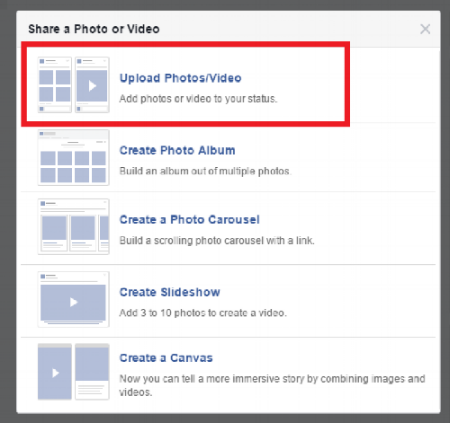 You might be wondering why you should share videos in your posts this way rather than linking them from YouTube? It's been shown that videos uploaded natively from your computer to Facebook have 10 times higher reach compared to video links from YouTube. Facebook videos also enjoy a higher engagement rate compared to sharing YouTube links.
It's also important when it comes to uploading video to Facebook to keep in mind that 85% of video views watch with sound off. Making sure you have accurate closed captioning on all videos is important to ensure you don't run the risk of losing the interest of this large demographic.
Live Video
Facebook Live allows you to share live video with your fans and viewers, showing them what you're doing and seeing in real-time. Live is a great way to give potential candidates authentic behind-the-scenes look at what it's like working at your company.
In the past, I've seen companies done Q&A sessions with business leaders or recruiters, panel discussions featuring employees from different departments and live broadcasts of company events, such as conferences and training workshops.
Get creative with what you broadcast! For example, if your office has a band room, you can go live when employees are rehearsing and playing a song.
Facebook Live is a fantastic channel to authentically showcase your company culture and employee experience while giving candidates the opportunity to interact with your employees in real-time by posting questions or engaging in conversations in the Comments section.
Here's an example of a live video broadcast Facebook did with their product engineering teams to share their employee experience and promote career opportunities with the company.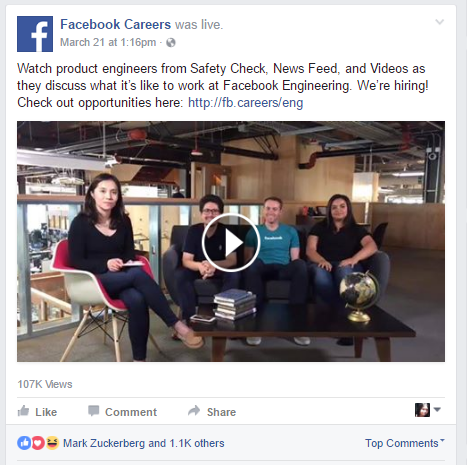 Facebook 360
With Facebook 360, you can give candidates an immersive, unique photo or video experience through virtual reality. Viewers have the ability to see the full 360-degree view by dragging on the 360 photo or video up, down, left and right.
For example, you can showcase your offices with 360 photos and videos and let candidates explore the various spaces of your workplace, as if they're physically there in-person walking through your office.
And like Facebook Live, you can also use 360 photos and videos for your company events, everything from meetups to holiday parties, to give candidates a peek behind the curtain at what it's truly like working at your company, through the lens of a real employee.
If you're looking for more ideas on how you can use 360 photos and videos, check out our blog on how you can use virtual reality and augmented reality for employer branding.
Social Advertising
When you're just starting out with your Facebook Page, you're likely not going to get thousands of likes or engagement overnight. It takes time to build brand awareness for your Page and grow your community.
So how can you build presence and create awareness for your Facebook Page? You may want to consider dedicating a portion of your budget on Facebook ads and boosted posts.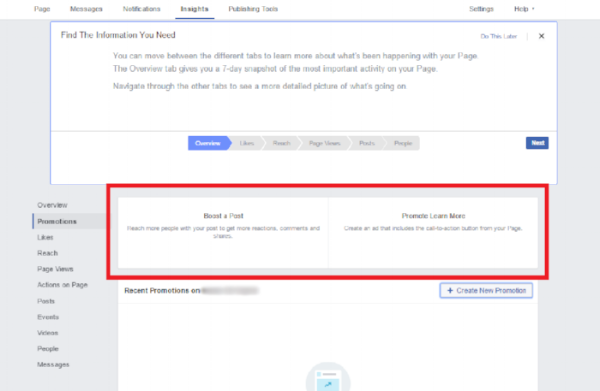 Facebook advertising allows you to create and promote custom ads that will appear in your audience's News Feed or the right-hand column of their Facebook page. You also have a selection of ad formats to choose from, including showing a single image/video or multiple images/videos.
Boosted posts, on the other hand, help increase the chance of your existing audience to find your content, or to get your posts to a larger audience beyond the people who like your page. You can boost most posts that you create with your page, including status updates, photos and videos. Boosted posts will appear higher in your audience's News Feed, so there's a better chance that your target audience will see it.
Like Facebook ads, you can customize how much you want to spend and the time you want your boosted posts to run.
Whether you decide to run Facebook ads, boosted posts, or both, it's important to spend time customizing and targeting the right audience so you can get the most out of your ad investments for your Facebook employer branding efforts.
4. Pages To Watch
A lesser-known Facebook Page feature that can be very helpful if you want to compare and see what's working for your talent competitors with their employer branding efforts on Facebook is the Pages To Watch tool. You'll need to have at least 100 people like your Page before this feature becomes available to you.
The Pages to Watch feature allows you to monitor other Facebook pages to see what content they're posting, when and how often they post, as well as their weekly engagement and growth numbers. This information can give you a better idea in terms of your post frequency and time.
To use the Pages to Watch feature, go to Insights at the top of your Facebook page, scroll to the bottom of the Page and click on Add Pages (this should be below your 5 Most Recent Posts section). From there, you can search and add the Facebook pages you want to watch.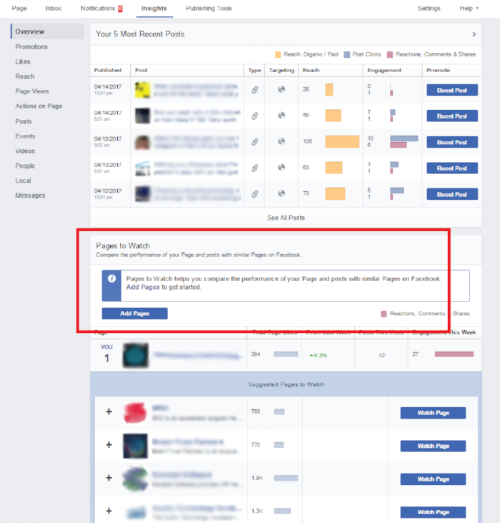 Note that when you add a Facebook Page to watch, the community managers of that Page will get a notification that their Page is added to a watch list, but the notification won't tell them who it is that added them.
5. Event Promotion
700 million people use Facebook Events each month, and 35 million people view a public event each day. If you've got an open house, recruiting event, meetup or Facebook live broadcast coming up, spread the word by creating a Facebook Event to help promote it on your Facebook Page. Once you've created your event, you can share it in News Feed to build buzz, engage your attendees and continue promoting it leading up to the day of the event.
If you want to give your events an extra boost in marketing and attendance, you can also promote them with ads or boosted posts targeting people who like your Facebook page, their friends or custom targeting based on similar demographics we covered under the Social Advertising section.
Here is an example of a Facebook Event that Lowe's held in April 2022 to advertise a local hiring event at one of their stores.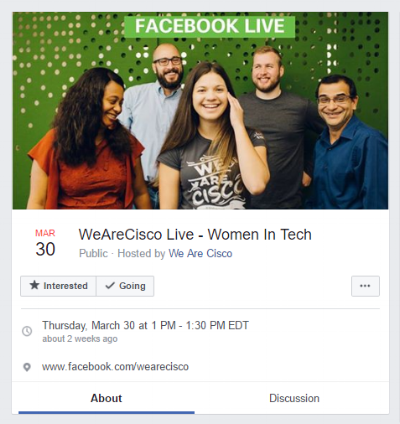 6. Job Posts
In 2016, Facebook announced their Facebook Jobs feature, allowing businesses in the US and Canada to post job openings on their Facebook Page.
According to Facebook, candidates can apply directly to job posts on Facebook and their mobile devices. Page admins can track all job applications and contact applicants directly through Messenger. And as with other Facebook content, you can also boost your job posts to target your audience and improve reach.
Based on its existing functionality though, this feature may be more suitable for smaller companies and startups that have fewer open positions. For larger companies with a higher volume of job openings and applications, it may not be practical to post every single job you have.
Instead, you may want to consider running Facebook ads or boosted posts for your high priority job openings that direct candidates to apply via your careers site or recruiting microsite, so applications are going to your applicant tracking system (ATS) rather than a separate platform.
A longer term solution to posting and promoting your job openings on Facebook is the Work4 solution, which essentially builds an extension of your jobs site within your Facebook page. The solution automatically imports your job postings into your Facebook Page from your careers site or ATS, and allows candidates to search, view and share job openings as well as submitting applications, which are then either forwarded to a recruiter or redirected to your careers site so all applications are centralized in your ATS.
If you're interested in trying out Facebook's new job post feature, here's how to do it: go to your Facebook Page and click on the "Publish a job post" feature.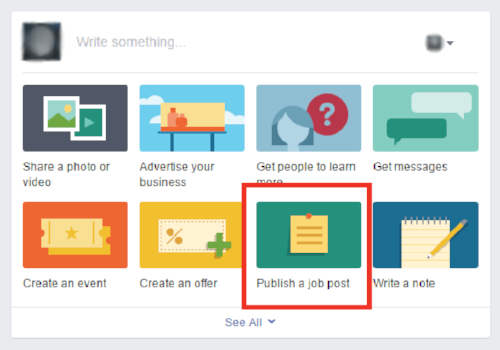 You should then get a pop-up window to fill in the details about your job opening. You'll be able to preview your job post to see what it looks like in the desktop and mobile News Feed view.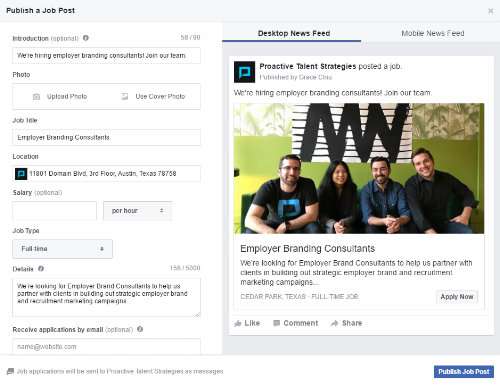 7. Post Scheduling
Many community managers like to use social media management tools like Hootsuite or Buffer to schedule and publish social posts. But what if you don't have access to these tools?
Facebook's own Publishing Tools feature actually allows you to schedule future posts, save drafts that you can come back and work on later, and even backdate posts if you want them to appear earlier in your timeline. The backdate feature is something you can't do with social media platforms like Hootsuite.
To start scheduling your posts, go to the "Write something…" textbox on your Facebook page, or go to the Publishing Tools tab then click the "Create" blue button near the top right-hand corner.
You should then get a pop-up window prompting you to enter your post, click on the arrow button (right next to the "Schedule" blue button) and you'll get a drop-down menu option to choose to schedule a time, backdate or save your post as a draft.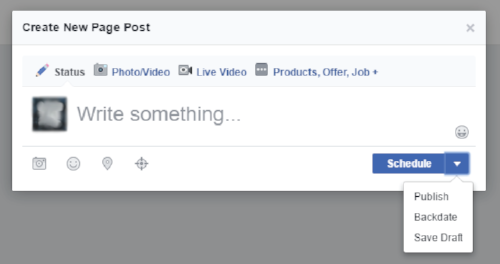 ###
I hope you've found these 6 tips helpful in building your employer branding on Facebook! If you'd like to chat more about how you can improve your employer branding efforts, you can contact us here.
Comments