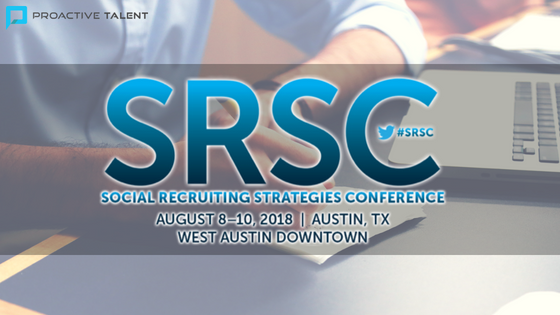 In a few weeks I will be speaking at one of my favorite events, the Social Recruiting Strategies Conference (#SRSC), from August 8th-10th, here in Austin. I'll be leading a session on utilizing video in recruiting and also participating as a panelist on the Association of Talent Acquisition Professionals (ATAP) panel, titled "How I Made it in Talent Acquisition (thanks to Social Media)". Both of these topics are near and dear to my heart since I began my career in Talent Acquisition, specifically leveraging social media and video to push boundaries and build successful global employer brands and recruiting engines at companies like VMware and SAP. Even since leaving, it's been fun to see the work I began evolve over the last 8 years.
How Video Killed the Microblogger: Recruiting Videos on a Budget
Video today is easier than ever before and can greatly improve your talent engagement and attraction efforts, all while staying within budget. My presentation, "How Video Killed the Microblogger: Recruiting Videos on a Budget", will cover the following items:
1. How you can utilize various types of video content at each candidate touchpoint
2. How using dynamic video content can improve your recruiting strategy
It's 2018, and almost everyone has an HD camera in our pocket and a multitude of free or inexpensive tech and apps for creating quick, high-quality video content. This content can highlight the experience of working at your company, showcase colleagues your candidates would be working with, and even give candidates a first-person perspective of the day-to-day responsibilities of the job. Talk about transparency! We now have the power at our fingertips (literally) to let candidates in the door, meet their potential boss and teammates, and experience the working environment - all before they even apply. If you want to understand how to better utilize video and leave with over a dozen new and creative ideas and best practices, then you won't want to miss out on this session!
How I Made it in Talent Acquisition (thanks to Social Media)
Later in the afternoon on day one, I'll be participating as a panelist in Ben Gotkin's ATAP panel where he'll be asking questions of myself and fellow panelists, Allison Kruse, Director of Content and Social Media at Kforce, and Chris Hoyt, President & Co-owner of CareerXroads. In this panel session you'll hear about how our social media experiences have shaped our talent acquisition careers, allowing us to break through barriers and innovate while advancing our career goals and ambitions. I've known Ben and my fellow panelists for many years and enjoyed observing what they've accomplished in their careers, using innovative social media approaches, and I'm very excited to see where this discussion leads us. If you're curious about how to elevate your social media game in order to more efficiently work towards your professional goals, this is the panel for you!
Whether you are a seasoned social recruiter or just starting to figure out how to apply digital marketing strategies to enhance your career, attending this conference is a certainly a value-adding learning experience. In addition to the many professional takeaways, SRSC is also where I've expanded my network with many acquaintances who are now friends.
After attending the conference, you will leave with the latest, most relevant recruiting and technology trends in the industry. If you're still unsure if this event will be worth your time, here are the top 10 takeaways of attending this year:
1. Create real relatable content to build your employer brand
2. Target Your Ideal Candidates
3. Learn from the best - case studies by leading TA practitioners
4. Optimize Mobile Recruiting Strategies and Maximize ROI
5. Effectively Recruit Passive Candidates
6. Tips and Tools for Improved Social Sourcing
7. Access Key Corporate Case Studies for Recruiting on Tight Budgets
8. Learn how to Make the Most of KEY platforms
9. Put the Data to Work for You - Gain Executive Buy-in
10. Network with HR Pros and Industry thought leaders
Register today for a chance to become a pro in the use of video in recruiting. If you reach out to me and mention this post, I will provide you with my speaker code for a 15% discount. I hope to see you in Austin!